The 888 platform plays host to a few different gaming sites, not least of all a poker offering. And this particular site is able to provide players with several different poker game options within itself. There's quite a high probability that you've heard of 888 in general. After all, it's responsible for a very high-quality online casino. However, the online poker still has its own vast amount of appeal for you to enjoy. It's not just the games that make this one of 888's best offerings though. You see, it also plays host to some intriguing tournament and promotions at the same time. Of course, it's Cassava Enterprises that owns the entirety of 888, so you've got a team with vast experience behind its running. And what's more, the poker site is completely mobile compatible too. So, anyone who wishes to play poker from a smartphone or tablet will find satisfaction at 888 Poker.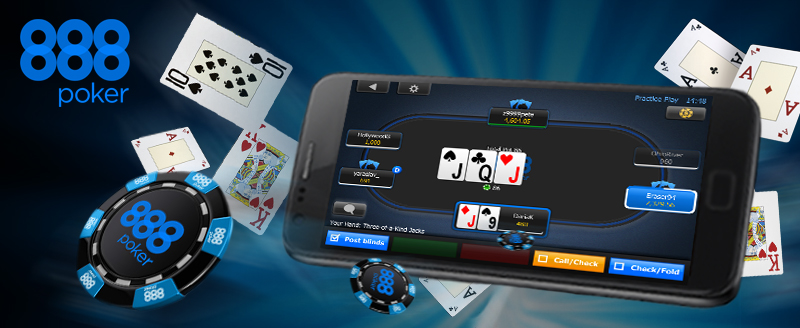 As far as the overall design of the site goes, this sticks quite closely to the overall crisp and high-quality standard of all 888 offerings. Additionally, when it comes to the mobile version, there are two options for you to utilise. You can visit the platform by entering its address into your device's web browser. Or, on the other hand, you can download the app for your handset directly. This then gives you instant access to the poker rooms. It's available to download for free, working with both Android and iOS devices. Naturally, the mobile version is optimised so as to provide you with the best view of the platform on your handset.

Games and Providers
While some poker platforms utilise software from specific game developers, 888Poker uses its own proprietary software instead. Therefore, it's something that you won't particularly be able to find anywhere else online. Therefore, this is quite a big perk to being a member of the 888Poker site. Of course, if you are quite familiar with other poker softwares, it may take a little time to familiarise yourself with this one. And if you're struggling, there are plenty of software manuals and more assistance available for you to utilise.
When it comes to actually playing the games themselves, the 888Poker site provides quite a large number of these. The first of the game options is the Blast Poker. This is what the site describes as 'The Ultimate Sit & Go Experience'. Four players participate in this version, competing for a randomly drawn prize pool. It's a time-limited poker game, with prize pools reaching up to 10,000 times your buy-in amount! Texas Hold'em is another version of poker that 888 hosts. This sees each player receive two hold cards at the beginning. To win, you just need to form the best 5-card hand, using your two hole cards as well as five community cards. Plus, 888Poker also offers up 7 Card Stud poker too. This is, as you may guess, a game of poker featuring seven cards instead of five. And this version of poker can house up to eight players too!
You could also try out the Snap rooms at this platform as well. This is the fast-fold poker format, that is quite exclusive to 888Poker. This was actually designed to reduce waiting times as you're dealt new cards the instant that you fold. Therefore, it's faster and better than many other online poker softwares. It's available in both cash game and tournament formats too. Plus, avid mobile gamers will also find this is accessible via their preferred device. You can also play Omaha Poker at the 888Poker platform. However, perhaps one of its most intriguing features is the fact that it offers up Face2Face games as well. Basically, as long as you have a webcam (or phone camera), you can play this. You're able to see players from all over the world in this version, with specially selected 888Poker tables available for using.

Payment Methods
When you're adding funds to your account, you have the option of using multiple different methods to complete this. For example, first of all, there's the Visa and MasterCard credit and debit card offerings. Alternatively, if you're a player in the UK, you can use the ApplePay option. This allows you to use your iPhone or iPod as a wallet to deposit money into your poker account. EntroPay virtual Visa cards are also able to be put to use, as is iDebit. Alternatively, you have the option of making use of an eWallet, such as Neteller or PayPal. Additionally, various local bank transfer methods can also be put to use to complete a deposit transfer. As well as this, when you're ready to make a withdrawal, there are a couple of different methods for you to do this by.

Promotional Offers
888Poker wouldn't be a real 888 offering if it didn't provide players with a great range of special offers. And fortunately, it delivers very nicely in this area. As a newcomer to the poker site, you will be able to benefit from a welcome bonus. So, after completing your sign up, you will need to make a deposit into your account. Then, you'll receive a welcome bonus of 100% up to €400 in total. Your welcome bonus is given to you in €10 portions each time that you collect 100 bonus points. And these are collected through playing real money poker and casino games at 888Poker. But, that's not the only thing that you'll get as a new player at the site.
Alongside the bonus funds, you'll also get seven Free Tournament tickets. These are able to be put to use in order to access the daily €500 Depositors' Free tournaments at 19:30 GMT. Therefore, with seven of these tickets, you get the chance to compete for €3,500. That's a great gift from the 888Poker platform. And in addition to this, you'll also get two tickets to the twice-weekly €1,000 Depositors' Free tournaments. So that makes another €2,000 that you're able to play for. And every week that you deposit at least one will award you with two more tickets for this! It's still no over either, because you also gain a single ticket access to the First Depositors' Challenge tournament. This happens every Friday at 19:00. The top 10 players win a seat at the amazing Sunday Challenge tournament as a reward!

Support Options
We know that playing poker on both desktop and mobile versions can be very thrilling. But, it can also potentially run you into a problem or two. However, 888Poker is ready for such possibilities, providing players with a FAQ section to browse through. Other than this, you can speak to the site's customer support team. It's a bit unfortunate to say though, that this is only possible via email. So, you don't have the option of speaking to them directly in any way. We'd at least like to see a Live Chat function at the platform.

Safety and Fair Gaming
Because this entire site comes under the ownership of Cassava Enterprises, it holds a gambling licence from the Gibraltar Regulatory Authority. However, 888Poker also has a secondary licence from the UK Gambling Commission. These both ensure that players at the site are gaming in a safe, secure and fair environment all of the time. And you can read more information about these licences at the bottom of the platform. And for even more information on such, you can navigate your way to the licensing companies' websites. This is done by clicking on their respective logo links. At these websites, all of the necessary information relating to the licences can be found.

Conclusion
888Poker does have a very appealing website for you to play poker games on. And not only that, but the software is specific to 888 offerings. Therefore, it can't be found in many other locations. And it's great software as well. Add to that the impressive promotional offers and the possible payment methods and you've got a very attractive platform. It's a shame that the support options aren't so great, as this would push the poker site up to a higher level.